During Childhood Cancer Awareness Month, FDI highlights need to build awareness about oral health in cancer care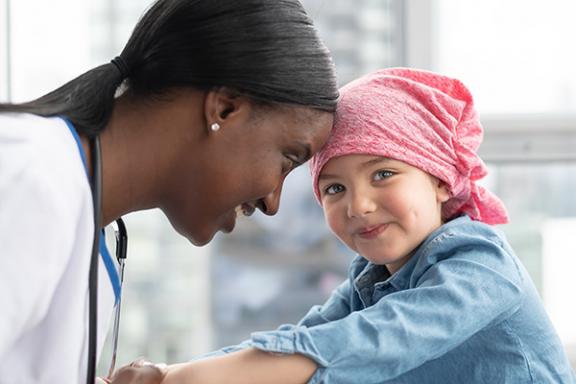 Childhood cancer presents as one of the major causes of death worldwide. Collaborative cancer care, which must include oral health, is indispensable to improve patients' overall treatment outcomes and quality of life.
September is Childhood Cancer Awareness Month (CCAM). Symbolized by a gold ribbon, CCAM is an opportunity to raise awareness about the impact of cancer on children, young adults, and their families. Since its establishment in the United States in 1992, this month seeks to increase the survival rate and change the future of children living with cancer. 
Childhood cancer affects children aged 0-14 years and presents as one of the major causes of death worldwide 
In 2018, the World Health Organization launched the Global Initiative for Childhood Cancer to reach 60% of 5-year overall survival globally by 2030. Shaping policies to increase the survival rate is a priority and requires an accurate estimation of childhood cancer incidence. However, many countries do not have such a cancer registry, or the numbers are underestimated due to undiagnosed cases [1].
Due to existing barriers to access and quality of care, late diagnosis, and socio-economic circumstances, today the main factor defining the treatment outcomes for children with cancer is their home country [2]. While the survival rate has been increasing over the last six decades, especially in high-income countries (which have an approximately 80% five-year survival rate), it is estimated that there will be 13.7 million new cases of childhood cancer globally between 2020 and 2050, together with 6.1 million cases that will go undiagnosed. 
During the next 30 years, 11.1 million children will die from different types of cancer, and 84.1% of these cases will occur in low-income and lower-middle-income countries unless access to healthcare services and treatment are significantly improved [3].
Integrating oral healthcare into cancer care
During cancer treatment, there is a risk of developing oral complications including dry mouth, oral bleeding, and oral mucositis. Oral mucositis is expected to affect 40% of children receiving standard-dose chemotherapy and 80% of patients receiving radiotherapy for head and neck cancer[4]. Oral complications for children are three times more likely than for adults. Chemotherapy and/or radiotherapy[5] are often particularly aggressive treatments for children, and can lead to the development of dental caries, periodontal disease, and/or pathologic lesions of oral hard and soft tissues[6]. Some of the oral conditions that arise during cancer treatment can cause permanent changes to the structure and function of the oral cavity[7].
FDI defines oral health as an essential part of overall health and well-being and clearly positions oral health within general health
If left untreated, oral diseases can negatively impact the mouth as well as the rest of the body. Oral health professionals have a key role to play before, during, and after cancer treatment. Proper assessment of the mouth is a crucial step to enhance the patient's quality of life and improve their overall cancer treatment outcomes.
FDI with the support of Zendium is launching a new project  to build knowledge and understanding about the importance of oral health in cancer care and improve collaboration among healthcare professionals
The potential to develop oral health complications during cancer treatment highlights the important link between oral health and general health. This new project aims to strengthen collaboration and knowledge between oral health professionals and other health professionals involved in cancer care, enhance the integration of oral health into cancer care, and empower people with cancer to improve and adapt their oral healthcare habits according to their specific needs. The project will develop several tools, including an interprofessional education course and oral health education resources designed specifically for patients with cancer.
The Oral Health and Cancer: Collaborative Care and Patient Education Project is supported by Zendium and will run until the end of 2022.
References
[1] Ward ZJ, Yeh JM, Bhakta N, Frazier AL, Atun R. Estimating the total incidence of global childhood cancer: a simulation-based analysis. Lancet Oncol. 2019;20(4): 483-493.
[2] Landman A, Collingridge D. Treating childhood cancer: a necessity not a choice. Lancet Oncol. 2020;21(4): 484-485.
[3] Atun R, Bhakta N, Denburg A, Frazier AL, Friedrich P, Gupta S et al. Sustainable care for children with cancer: A Lancet Oncology Commission. The Lancet Oncology. 2020; 21(4): pE185-pE224.
[4-6]'6 Ritwik P. Dental Care for Patients With Childhood Cancers. Ochsner Journal. 2018;18(4): p351-357.
[5] Proc P, Szczepańska J, Herud, A, Zubowska M, Młynarski W, Fendler W, Zheng LW. Dental caries among childhood cancer survivors. Medicine (United States). 2019;98(6).
[7] Hartnett E. Integrating Oral Health Throughout Cancer Care. Clin J Oncol Nurs. 2015; 19(5): 615-619.