Only two months to go: it's time to get involved with World Oral Health Day 2022
WOHD relies on you to drive awareness on how to prevent and manage oral diseases. Learn more, use the campaign resources and get involved.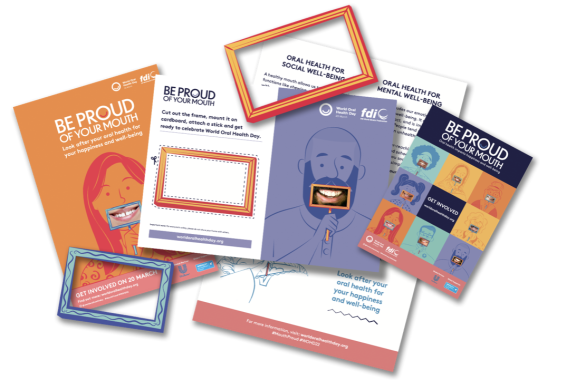 Are you ready to celebrate World Oral Health Day (WOHD) 2022? In 2021, we recorded over 500 activities in 197 countries. We count on your actions to promote oral health globally and can't wait to see what you have planned this year.
It's time to plan your activities
There is so much that you can do to celebrate WOHD and call on people to be #MouthProud for their happiness and well-being. Check out the new toolkits that will help you activate the campaign and learn about the different types of activities that you can organize to get involved. No matter who you are there is a toolkit for you:
Get mapped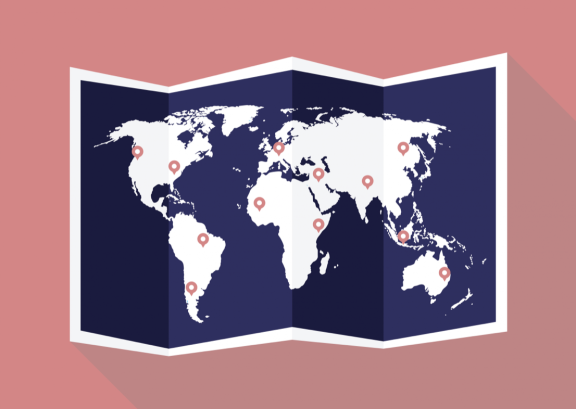 Whether you will organize an oral hygiene webinar, a social media campaign, carry out dental check-ups, use the frames or organize educational activities in schools, it's time to share your activity and get mapped. Tell us and others what you are planning to do and then, please feedback on how it went. Outstanding efforts will be recognized through the World Oral Health Day Awards.
Get involved with the Custom Poster tool
Create personalized posters quickly and easily online and transform pictures into campaign posters by sharing them on our #MouthProud wall and directly to social media at: worldoralhealthday.org/custom-poster
Let's join forces to spread the message globally: Be Proud of your Mouth for your happiness and well-being.
Check out the New WOHD 2022 resources

: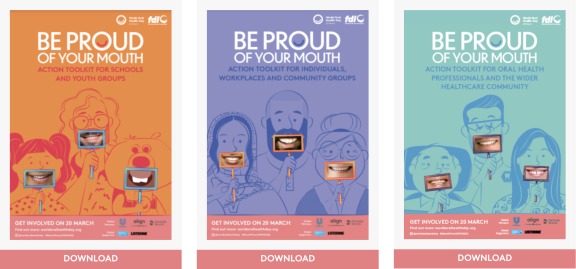 Action toolkits
A comprehensive set of guidelines on how to use the resources to activate the WOHD campaign. 
New French and Spanish translations available
In addition to English, the French and Spanish translations of the following resources are also now available: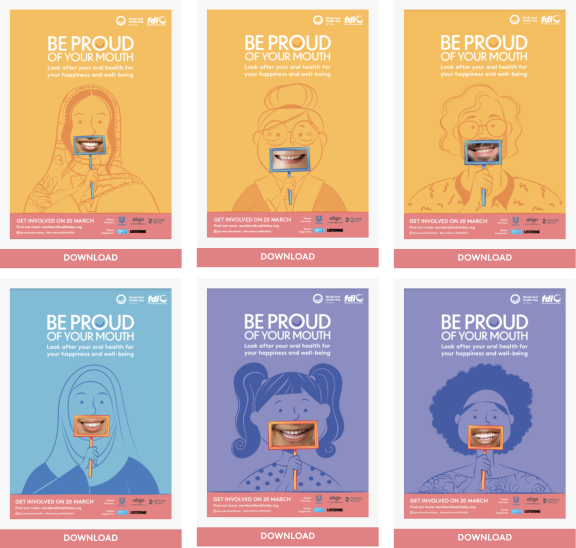 Posters
Display and distribute the campaign posters. There are 12 to choose from and include:
Video
Video is a really effective way to get people's attention and is hugely important on social media. The 60-second video is bright, concise and full of energy. Inspire action by showing and sharing it. Social media cuts available too!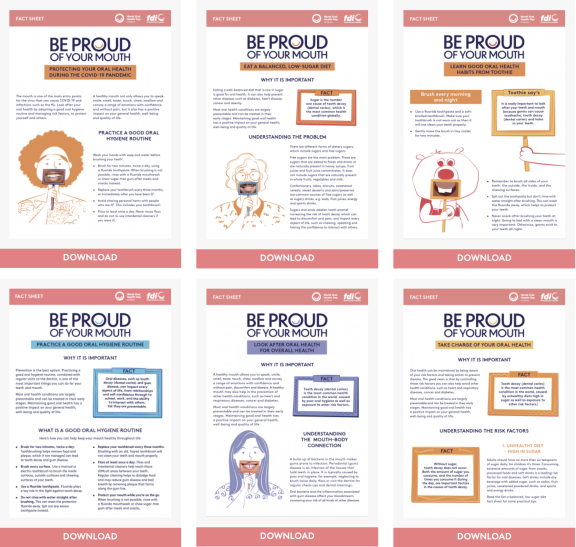 Fact Sheets
Oral health doesn't just affect the mouth. Share the facts on how to prevent oral diseases with proper oral care, both at home and by going to the dentist regularly, and how to avoid the problems they can lead to.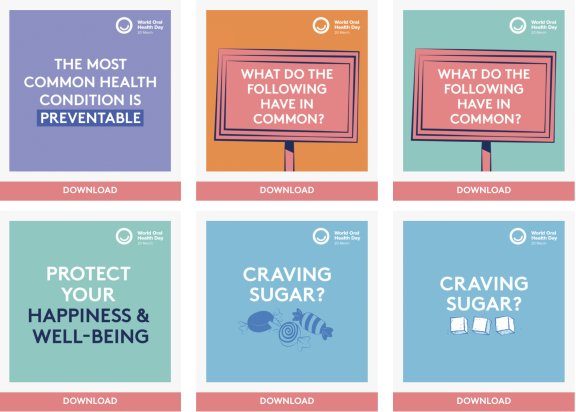 Social media assets
Download and share the new social media assets to engage your social networks! From social media cards and covers, GIFs, to Instagram stories. Use them to engage in conversations, and turn those conversations into action.
Stay tuned for new resources and updates
Coming soon: we will launch the #MouthProudChallenge on social media soon, providing you with concrete ideas on how to join the conversation on social media so that you can help spread the word. Come back and visit the campaign website regularly and get involved with WOHD 2022. Let's give everyone a reason to have a happy and healthy smile for WOHD 2022.