How to build networks that matter at the FDI World Dental Congress
Are you a young dentist attending the World Dental Congress in Sydney, Australia? Listen to this podcast for tips on how to make the most of networking opportunities at the event.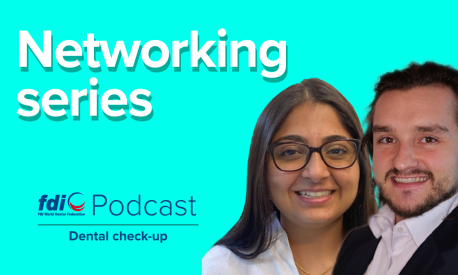 The FDI World Dental Congress (WDC) is an extraordinary opportunity to foster relationships in an international setting. Hosted jointly with the Australian Dental Association in 2023 in Sydney, Australia, WDC promises to be an exceptional event with a carefully curated scientific programme, an extensive industry exhibition and an array of networking opportunities.
Ahead of WDC, Ms Kelly Hoey, a seasoned networking expert and host of this special episode, engaged in a thoughtful conversation with two aspiring young dentists who are eagerly preparing to attend the event in Sydney. During their discussion, she shares valuable insights about maximizing networking opportunities and offers practical tips on conquering the fear that often accompanies approaching new people.
Broaden your professional network and collaborate with like-minded professionals at WDC
In an enlightening conversation, Kelly with Mr Konstantin Lennart Schrader, Founder of the Student Council within the Liberal Dentists Association of Germany, and Mrs Sanika Shorey, President of the Australian Dental Student Association, delve deeper into how they have developed a network through their educational journey and active involvement in various student associations.
During the discussion, they share invaluable insights and practical advice on effectively approaching individuals at events such as WDC, which attracts leaders, experts, and peers from diverse backgrounds and regions across the globe, providing unparalleled opportunities for networking and growth.
"It is important for students to bridge the gap and to build the good networking habits while we're at university. We should be willing to go out there and experience new things and see other opinions in dentistry, and then continue to do that throughout our professional careers," states Sanika, as she reflects on her commitment to encourage networking opportunities within her student dental association.
Building and maintaining a professional network during the early stages of a career is vital. It opens doors to numerous career growth opportunities, allows for exposure to diverse perspectives and knowledge, provides access to valuable mentors for guidance, offers a strong support system, and fosters collaboration with like-minded professionals.
WDC offers an unparalleled chance for early-career dentists and dental students to develop their network through its inaugural Young Dentists Forum, a half-day programme featuring engaging presentations and a dynamic panel discussion led by distinguished international speakers, as well as industry and emerging voices. Moreover, it empowers future leaders by providing an invaluable networking and educational opportunity, as discussed by Kelly, Konstantin and Sanika.