Announcing the five 2022 World Dental Development Fund winners
Providing support to projects in India, Nigeria, Rwanda, Tanzania, and the USA to help build capacity and improve access to oral healthcare.
The World Development Fund (WDDF) provides financial support to help build capacity for on-the-ground projects aimed at improving oral health and preventing oral diseases in limited-income areas.
Established in 1999, FDI awards 10,000 CHF to educational and sustainable oral health projects that are designed to benefit individuals and communities. Projects must complement local, regional, or national strategic health aims within the country; they should also be developed in consultation with local authorities and stakeholders.
The five winning projects for 2022 come from India, Nigeria, Rwanda, Tanzania, and the USA.
Meet the winners 

☟
 
Implementing a post-pandemic Health Coaching training programme for empowering dental professionals in disease prevention in North India
This project is aimed at primary care dentists working in clinical practice registered with the Indian Dental Association (IDA). The healthcare system in India is fragmented with the lack of a comprehensive national healthcare system. Therefore, access to health and oral healthcare is often determined by ability to pay, thus creating significant health inequalities, which is exacerbated by the limitations of the relatively poorly resourced public healthcare sector in India. Healthcare is 80% private with a heterogeneous profile of patients from high income to low income.
Integrating oral healthcare in the system desperately requires the re-building of the dental infrastructure at the primary healthcare centre level, increasing self-awareness and empowering self-care on oral healthcare and as well its association with other non-communicable diseases (NCDs), such as diabetes.
In the spirit of integrated workforces and Universal Health Coverage (UHC), this project is underpinned by a specially developed self-empowerment and capacity-skills building tool, Health Coaching (HC). A growing body of research is demonstrating the impact of HC on behaviour change.
This HC pilot project will simultaneously create awareness, and address oral health and type 2 diabetes, among dental healthcare practitioners with a particular interest in the bidirectional relationship between diabetes and oral health.
 
Oral health promotion in schools and primary health services in internally displaced persons' in Nigeria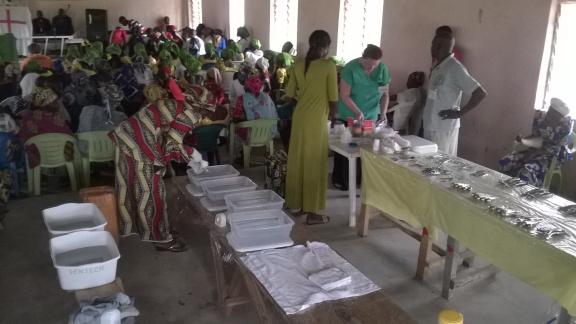 This project, run by The American University of Nigeria (AUN), will focus on oral health promotion in the Malkohi and Sengare Internally Displaced Persons (IDP's) host communities in Yola, Adamawa State, Northeast Nigeria. It will focus on school-aged children and once community health workers (CHWs) have been trained, school visits will be arranged for oral hygiene screening and awareness.
There is an urgent need for oral intervention and to bring oral healthcare to primary healthcare delivery and sensitize stakeholders on preventative practices. The overall well-being of IDPs residing in host communities will be achieved by training schoolteachers, on oral health promotion, in both primary and secondary schools in Malkohi and Sengare so that it becomes integral to health education in schools.
The overall goal for CHWs is to ensure that oral health becomes a routine part of the primary health services in their respective communities and that urgent oral treatment is provided, in order to manage dental emergencies. Initiatives will include training workshops for schoolteachers and educating children from these schools on oral health and hygiene.
To strengthen the local health system, CHWs will undergo an intensive seven-day workshop on oral hygiene practices in a rural setting. The CHW's will be taught how to practice infection control in low-resource settings. At the end of the training, the CHW's should be able to give oral urgent treatment. The CHW's will also be taught about oral health and disease prevention and the link between oral health and NCD's as well as common risk factors.
 
Raising awareness on the importance of sanitation and hygiene services in prevention of contagious diseases in 9YBE (Nine years Basic Education) schools in Rwanda
Miracle Corners Rwanda has a vision for communities around the world to achieve greater levels of education, improved health, and increased economic security. Its mission is "to address communities' pressing needs by empowering current leaders and readying leaders of tomorrow."  The goal is to eradicate poverty and promote a healthy life for the well-being of every citizen in Bugesera District.
The project is expected to sensitize 10,000 children and educate them about oral health and hygiene, as well as COVID-19 prevention measures through awareness campaigns. The project will focus on children aged between 7–15 years who study in Nine Years Basic education (9YBE) of Nyamata and Musenyi Sectors. The outreach will be carried out by dental therapists from Kigali Dental School.
These new oral practices in the Rwandan schools are expected to make a shift in behavioural change in oral health practices from the schools to the wider community, which will lead to improved health and sustainability of the citizens free from oral health problems and COVID-19. The overarching goal is to see increased behaviour change in sanitation, hygiene, and oral health, which will curb the high spread of infectious diseases in the local community.
 
Reducing inequality through dental outreach to primary school students in Tanzania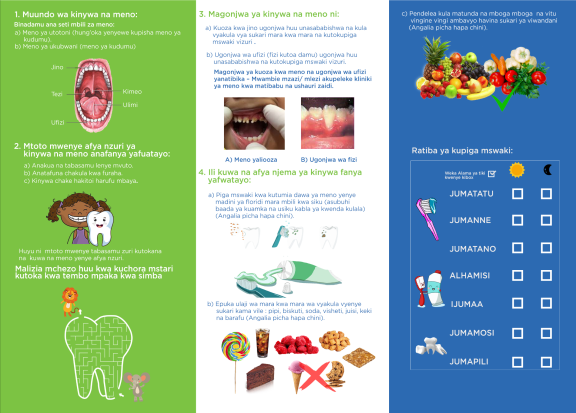 The project run by Miracle Corners, Tanzania aims to make oral healthcare more accessible to those in need across the country by providing children with essential oral healthcare and dental treatment, as well as promote oral health awareness in the community.
Direct dental treatments will be provided to at least 600 primary school students from Mbeya and Tanga regions in Tanzania, aged 7–12 years. The project will also provide oral health screening and education to raise awareness of good oral hygiene and lifestyles to at least 2,000 primary school students from Mbeya and Tanga regions. A cohort of more than 40 dental therapy students in their last year of instruction will also benefit from participating in the outreach by gaining the field experience needed to support their work.
Data will be collected for every child on dentition status, periodontal status, enamel fluorosis, dental erosion, dental trauma, oral mucosal lesion, and treatment needs. The primary schoolchildren will receive treatment and dental care based on the needs identified during screening.
To maximize impact and avoid future dental issues, the project will provide preventative oral health education to primary school students. This includes proper use of toothbrushes and toothbrushing techniques, fluoridated toothpaste, the importance of a balanced diet, and reduced frequent sugar intake. Also, to promote the benefit of regular visits to the dental clinics.
The target is to have at least 75% of students change their oral health behaviours and practices and to provide treatment and dental care for 100% of students identified with dental diseases and conditions.
 
Portable Clinic on Wampanoag Tribal Land, USA
American Indian/Alaska Native populations face significant health disparities that have persisted across 500 years of colonial history and into contemporary American life. The Wampanoag Tribe of Gay Head have lived on Martha's Vineyard Island for more than 10,000 years. The rich culture of this indigenous tribe influences their holistic approach to health, wellness, and being. Unfortunately, the Tribe's complex historical experience with injustice and inequity has led to health disparities that continue to be perpetuated by the many barriers which exist today.
The Harvard School of Dental Medicine (HSDM) will partner with the Wampanoag Tribe of Gay Head to establish an operational portable clinic site by Spring 2022. The ultimate aim is to develop a free-standing dental clinic over the next 3–4 years to improve the overall health of the people of the Tribe through addressing the social determinants that influence oral healthcare access.
Components of the clinic will include: prophylaxis, oral health exams, oral health education, surveys to evaluate oral health needs, and eventually restorative procedures. With approval from the ethics review board, clinical and survey data will be collected to document the types of disease experienced by this population, as well as their barriers to care, with hopes to extrapolate and inform other similar projects nationwide.
Establishing a dental clinic on tribal land, will increase access to preventative and diagnostic oral healthcare for members of the Wampanoag Tribe to prevent more severe progressions of disease and offer early referrals, increase access to dental education and knowledge including the risk factors shared between oral health and other diseases, and increase awareness of the dental field as a viable career path for Tribe members.