Register for the 2023 Sustainability in Dentistry Virtual Summit on 5 June
On 5 June 2023, FDI will hold a virtual summit on World Environmental Day to highlight sustainable solutions to achieve effective, high quality, and environmentally sustainable oral healthcare.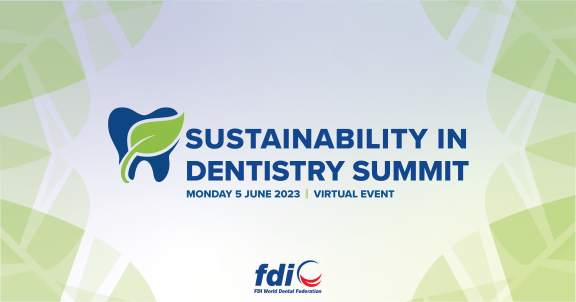 On 5 June, FDI will hold a virtual summit on Sustainability in Dentistry highlighting the dental profession and industry's commitment to reducing the environmental impact of oral healthcare. During the summit, participants will have the opportunity to hear captivating case studies, innovative ideas, and research projects, all dedicated to reducing the environmental impact of dentistry. The summit is a part of the project's second phase, which builds on its tremendous success over the past two years.
 
Join us this World Environment Day to commit to sustainable practices for a greener future
Since its launch in 2021, the Sustainability in Dentistry Project has gained significant momentum to raise awareness among oral health professionals, industry and the public by leading the implementation of actions to help reduce the environmental impacts of dentistry. In the new project phase, dental professionals will gain access to valuable educational tools and resources to make a positive impact on the environment and society. The new phase is receiving valuable support from industry partners including Dentsply Sirona, Haleon, and Colgate. Furthermore, FDI is delighted to welcome Sunstar and SDI Limited as new partners, showcasing their dedication and commitment to this project.
Environmental sustainability is an issue that involves multiple stakeholders and requires action and collaboration from many different actors. Through the knowledge of various sectors, a healthier and more sustainable future for all can be reimagined. The Sustainability in Dentistry Project is essential to developing resources for dental practices and patients to create a more sustainable world. The project is key to uniting stakeholders through initiatives such as the launch of the Consensus Statement on Environmentally Sustainable Oral Healthcare. Furthermore, to date 265 dental practices have shown their commitment to sustainable practices through registering for the Sustainability toolkit, and 125 stakeholders from the oral healthcare supply chain have signed the Pledge for Sustainable Dentistry. 
Join us this World Environment Day, 5 June at the Sustainability in Dentistry Summit and be part of our commitment to improving the environmental impact of the dental profession on the world. 
 
Submit your abstract to get the chance to showcase at the Summit
Be a part of the Sustainability in Dentistry Summit 2023 by submitting an abstract before 8 May for the chance to present your research to renowned experts at this virtual summit.
 
Get a chance to win a #SustainabilityInDentistry Award
Don't miss the opportunity to showcase your sustainable practices and get the chance to get recognized for your dedication to making a difference in sustainability. Apply for a chance to win the Sustainability in Dentistry Award and receive global recognition for your efforts.
 
The Sustainability in dentistry project is supported by founding partners: Dentsply Sirona, Haleon; partners: Sunstar; supporters: Colgate, SDI Limited.