Don't miss out on Continuing Education opportunities with our upcoming webinars!
Would you like to refine your skills and knowledge in dentistry? Register today for our upcoming CE accredited webinars.
Check out FDI's upcoming webinars on various oral health-related topics and register through the FDI Oral Health Campus, which provides oral health professionals with unique continuing education opportunities.
The dental clinic at the center of the general health of our pandemic patients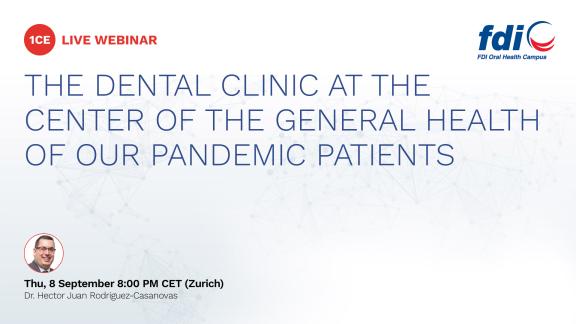 Periodontitis is a risk factor for atherosclerotic cardiovascular pathology (clinically expressed as coronary ischemia, stroke or peripheral vascular pathology), for diabetes mellitus and for certain cases of pneumonia. In dental clinics we should have protocols for the early detection of cardiovascular risk (including arterial hypertension), as well as prediabetes or diabetes, and establish the necessary measures to treat periodontitis in its early stages. Measures we need to take to protect ourselves and our health. Clinical research to improve our overall health impact.
Integrating oral health into the cleft care continuum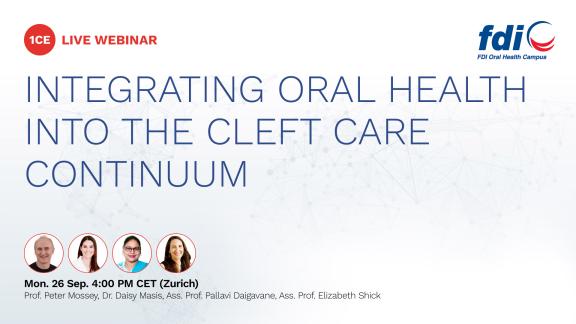 Cleft lip and palate (clefts) are the most common birth difference of the face and mouth, which can lead to difficulties with feeding and even survival following birth. Cleft lip can affect as many as 1 in 500 births, yet many children never receive the reconstructive surgery they need.
Even children who undergo cleft surgery are often at an increased risk for caries, periodontal disease, and other oral health issues as they grow and develop. These children require regular dental care to ensure adequate monitoring, education, support, and treatment to prevent oral disease and ensure the highest possible quality of life.
To support this integration, oral health professionals must receive accurate, quality guidance and education in caring for patients with cleft.
The oral microbiome in health and disease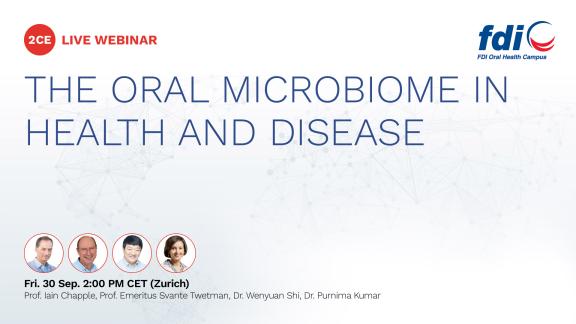 The mouth is one of the most heavily colonized parts of our bodies with microorganisms that live in symbiosis with healthy individuals who have adequate dietary and oral hygiene habits. Nevertheless, perturbations in the microbiome due to stress factors, such as high carbohydrate intake and biofilm accumulation, can lead to dysbiosis and the development of oral diseases and systemic diseases. The most prevalent oral diseases are dental caries and periodontal diseases, but soft tissue infections are also prevalent. The 2022 joint FDI Science Committee-IADR Forum will focus on the importance of the oral microbiome in health and disease, including dysbiosis, why it matters, and novel approaches to prevention and treatment of oral health and general health problems.