FDI reports on key outcomes of 2018 World Dental Congress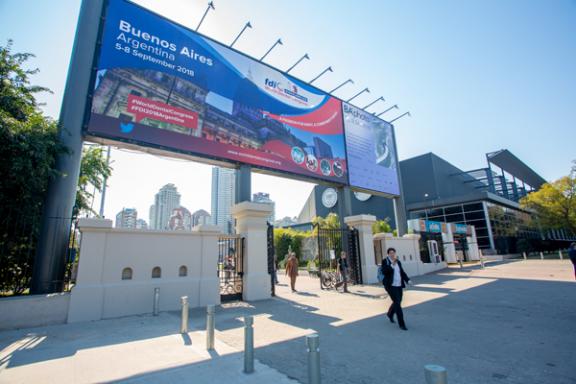 The 2018 FDI World Dental Congress concluded on Saturday, 8 September. Organized in collaboration with the Argentina Dental Association and held at the mythical La Rural convention centre in Buenos Aires, Argentina, the Congress welcomed nearly 8,000 participants from around the globe.
In addition to our scientific programme and crowded industry exhibition, the FDI World Dental Congress offers unmatched moments to build friendships with like-minded colleagues from around the world – and celebrate being part of FDI's rich worldwide network of dentistry and oral health.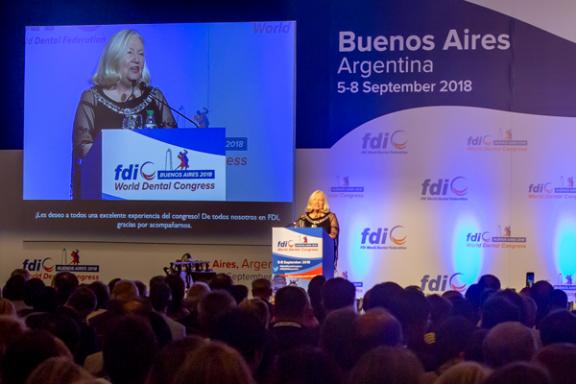 Key decisions made by the FDI General Assembly
The General Assembly (GA) is FDI's supreme legislative and governing body. Notable outcomes of the proceedings in Buenos Aires included the welcoming of new FDI member associations, elections within FDI's governance structure, and the adoption of FDI policy statements.
New member associations
Five regular members:
Colegio Odontológico Nicaragüense
Colegio Odontológico del Perú
Montenegro Dental Chamber
Papua New Guinea Dental Association
Russian Dental Association
Two associate members:
Egyptian Clinical Dental Society
Macedonian Society of Dental Medicine
One affiliate member:
International Dental Association Commonwealth, Association of Legal Entities
The GA re-elected Dr Jack Cottrell as Treasurer and Prof. Li Jian Jin as Councillor. A new council member Prof. Paulo Melo was also appointed. Council leads FDI in line with its vision mission; it is comprised of the FDI President, President-elect, Treasurer, and 10 Councillors.
Elections for the Standing Committees also took place with some positions being voted for by the GA and others nominated by FDI Council. These results will be published in the October issue of FDI News once all candidates have been officially notified.
FDI General Assembly adopts 10 policy statements
FDI policy statements, which detail FDI's position on issues of interest within the oral health community, are put together through consultation, discussion and consensus among leading dental experts from around the world.
This year, the GA adopted 10 policy statements:
(Deep) dentine caries and restorative care
Continuing dental medical education in dentistry
Dental amalgam phase down
Dentistry and oral health related apps
Dentistry and sleep-related breathing disorders
Global periodontal health
Nanoparticles in dental practice
Providing basic oral healthcare for displaced persons
National health policy with the inclusion of oral health
Promoting oral health through fluoride toothpaste
The new and revised policy statements will be available for consultation through the FDI website.
Dental Ethics Manual
A key publication that launched during the Congress was the Second edition of the Dental Ethics Manual. You can learn more and download it here.
FDI World Dental Congress 2019
The 2019 FDI World Dental Congress, hosted together with the American Dental Association, will take place in San Francisco, California, from 5-8 September 2019.
---
Find out more...
The World Dental Congress (WDC) is a flagship event for FDI, strengthening ties and fostering collaboration within the global oral health community.