Refugee oral health promotion and care
06/22/2022
FDI and Lancet Migration launch joint policy brief on oral health for people on the move
The oral health of displaced communities remains a neglected health issue, and this must change. Read and share our policy brief.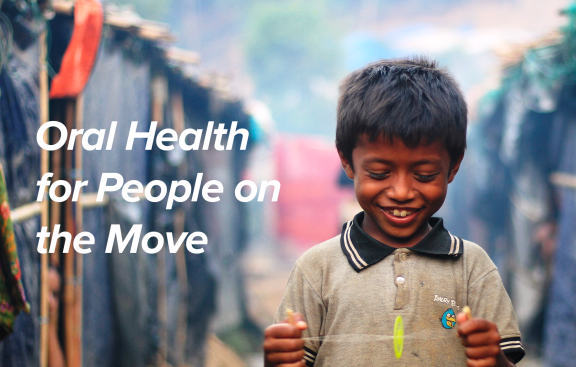 Globally, more than 1 billion people are on the move[1] due to forced global displacement. Unfortunately, vulnerable groups such as refugees, migrants, and other people on the move often face oral health inequalities and are at heightened risk of developing diseases. Our current health systems must address this issue and increase access to oral healthcare for vulnerable groups through integration into general healthcare systems.
Oral health is a basic right for all
To address the oral health needs for people on the move, FDI joined forces with Lancet Migration to develop a policy brief aimed at policymakers, governments and health systems, non-governmental organizations and charities, and academics and research institutions. It sheds light on the urgent need for action to reduce oral health inequalities amongst this particular group and provides key recommendations through calls-to-action. World Refugee Day is the perfect occasion to launch this publication and incentivize all those who can help to raise awareness and to act on the recommendations made in the Oral Health for People on the Move policy brief.
Emphasizing that strong and coherent action is required to improve the oral health of people on the move through a comprehensive universal health system approach, the policy brief highlights the current gaps in the system. Its key calls-to-action include increasing adequate epidemiological surveillance systems, oral health education, access to care, access to digital technologies and many more. Read and discover the many ways you can help improve oral health for vulnerable groups. Because oral health is a fundamental part of overall health and a basic human right.
---
[1] WHO Refugee and Migrant Health Fact Sheet, https://www.who.int/news-room/fact-sheets/detail/refugee-and-migrant-he…