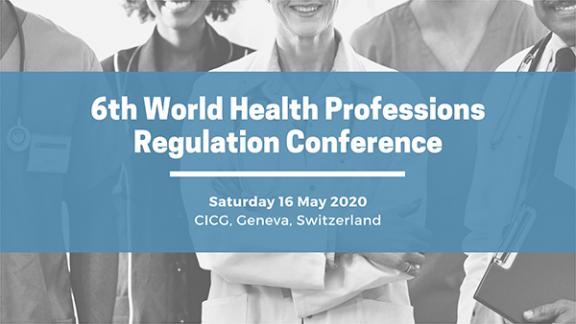 The 6th World Health Professions Regulation Conference (WHPRC 2020) will provide participants with new insights, diverse perspectives and emerging solutions to current challenges in health professional regulation.
The 2020 edition is a one-day event, bringing together health professionals from around the world on Saturday 16 May 2020 in Geneva, Switzerland. The conference will welcome over 150 representatives from national Health Professional associations and societies, including regulators. 
WHPRC 2020 will revolve around two key regulation topics: the value of strong regulatory bodies to deliver quality care and the importance of Continuing Professional Development (CPD). The full-day programme will be available online in the coming weeks.
The reduced, early-bird registration fee of CHF 290 is available now until 27 February 2020.
The registration fee gives you access to all sessions, coffee breaks, buffet lunch and the poster exhibition. Letters of invitation and Certificates of Participation can also be provided upon request. The standard registration fee of CHF 370 will be applied from 28 February until the day before the event (15 May 2020).
Call for abstracts and case studies
Be part of the WHPRC 2020 programme by submitting an abstract or case study for consideration as a poster displayed at the event. The deadline for submission is 30 January 2020.
About the World Health Professions Alliance
The WHPRC is hosted by the World Health Professions Alliance (WHPA). WHPA brings together global organizations representing dentists, nurses, pharmacists, physical therapists, and physicians and speaks for more than 26 million healthcare professionals in more than 130 countries. WHPA works to improve global health and the quality of patient care and facilitates collaboration among the health professions and major stakeholders. FDI is a member of WHPA.
You may also be interested in...