8 July webinar features oral health professionals from four continents currently confronting the COVID-19 pandemic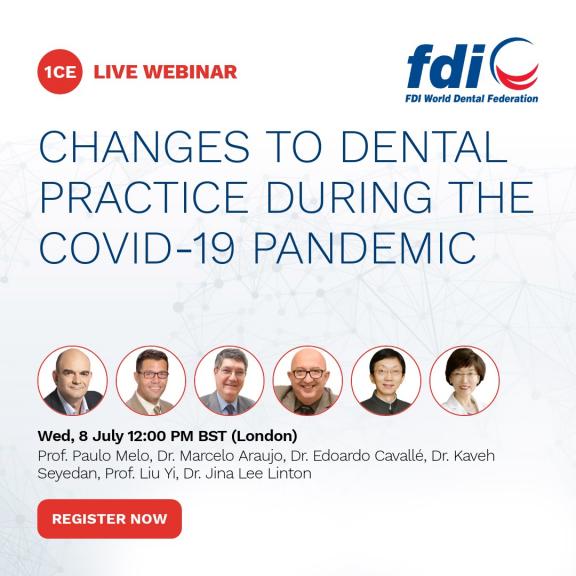 The COVID-19 outbreak is causing significant disruption to dental practice worldwide. In this FDI Oral Health Campus webinar on 8 July, speakers from four continents will present how the practice of dentistry in their countries has evolved throughout the COVID-19 pandemic, presenting both the practitioner and patient points of view.
Oral health professionals, dental associations and regulatory bodies are facing a number of challenges to continue providing dental care and promoting oral health, while also protecting patients and practitioners from the health threat posed by SARS-CoV-2.
As a participant, you will be able to discuss with the panelists during a 30-minute live Q&A session.
Changes to dental practice during the COVID-19 pandemic
Learning objectives:
Understand the different regulations and guidance relevant to dentistry that have been put in place in several countries.

Understand other issues relevant to dental practice experienced in those countries, e.g. PPE supply, reorganization of care provision/patient intake.

Understand the impact these measures and issues have had on dental practice, e.g. challenges posed to practitioners and how they've been overcome, if at all.
Title: Changes to dental practice during the COVID-19 pandemic
Date: Wednesday, 8 July 2020
Time: 12–1 PM BST (London)