Letter from the President
03/31/2021
Letter from the President: Proud to stand up for optimal oral health in 2021
How time flies! We welcomed springtime with a fantastic array of World Oral Health Day activities. We are already gearing up for our 100% virtual World Dental Congress in September (submit your abstract today!), and we remain committed to supporting our members through this pandemic, especially in advocating for treatment and vaccine equity worldwide, while tackling misinformation and combatting vaccine hesitancy.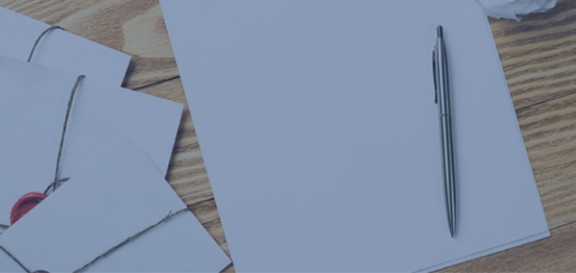 Joining forces with our members and friends on World Oral Health Day
I look forward to World Oral Health Day (on 20 March) each year. This year was no exception. While we might be kept at a physical distance due to the pandemic, I was glad to be able to closely engage with many of you online.
I participated in several online activities to mark World Oral Health Day, including events hosted by the Philippine Dental Association, the Turkish Dental Association, the Palestine Dental Association, the Pakistan Dental Association, and the Portuguese Dental Association. Thank you to our members for your initiative, commitment, and enthusiasm during these trying times.
Our Global Partner Unilever organizes outstanding World Oral Health Day activities as part of our Brush Day & Night partnership. I was glad to participate online in these events organized jointly by the Bangladesh Dental Association, the Indonesian Dental Association, and the Vietnam Odonto-Stomatology Association.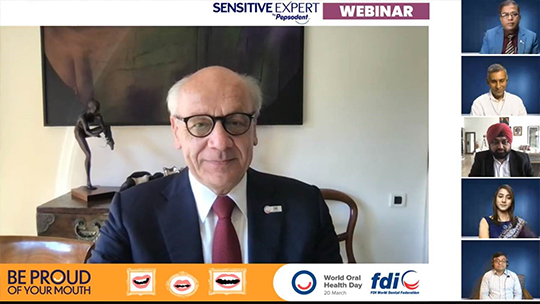 I was also delighted to participate in the launch of the 2021 edition of Smile Around the World in China, supported by industry partner 3M, on 20 March. My colleague and FDI President Elect Prof. Ihsane Ben Yahya and I both delivered virtual remarks at the launch ceremony.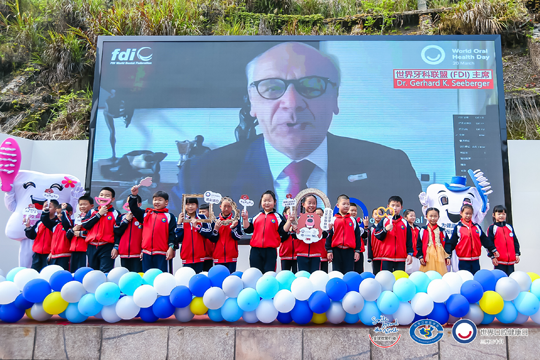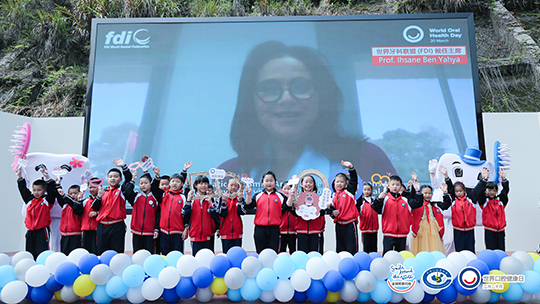 I also want to thank those members who contacted me in last-minute calls to address their colleagues, patients and people and support the FDI initiative and its supporters. What to say if not: I am proud of all of you!
This September 26-29, the Australian Dental Association (ADA) and FDI will present a completely virtual World Dental Congress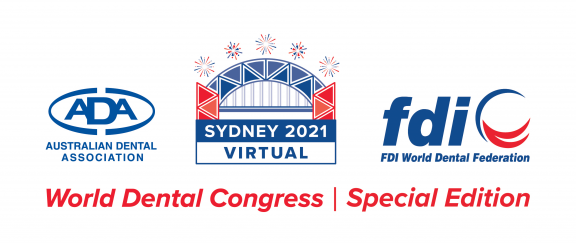 As you may already know, the FDI World Dental Congress 2021 Sydney will be held in a 100% virtual, special-edition format this year. The General Assembly as well as our regular business meetings will also be held in the digital space.
This special edition format offers us a unique opportunity to showcase the value of our wide-ranging list of speakers and unparalleled continuing education offerings. Although this will be a 100% virtual event, the quality will reflect the high calibre we expect from every FDI World Dental Congress. Attendees will be able to navigate between scientific sessions and the industry exhibition with ease and connect with colleagues in real time. Because the event is no longer limited to a strict time schedule, participants will have the flexibility to attend as many sessions as they would like.
I encourage you to submit your abstract before the 15 April deadline
Abstract submission will run only until 15 April 2021. Authors may submit abstracts for oral presentations and posters in the following categories: general dentistry; preventive dentistry; dental treatment and restorative dentistry; and oral surgery, medicine and cancer.
Please submit your abstract(s) as soon as possible and carefully review the Abstract submission guidelines before you submit.
International Dental Journal supplement details robust oral health outcomes through the Brush Day & Night partnership between FDI and Unilever Oral Care
This special supplement presents the results of Phase IV of the Brush Day & Night 21-day oral health education programmes in schools. We are proud of our achievements through Brush Day & Night—may this trend continue.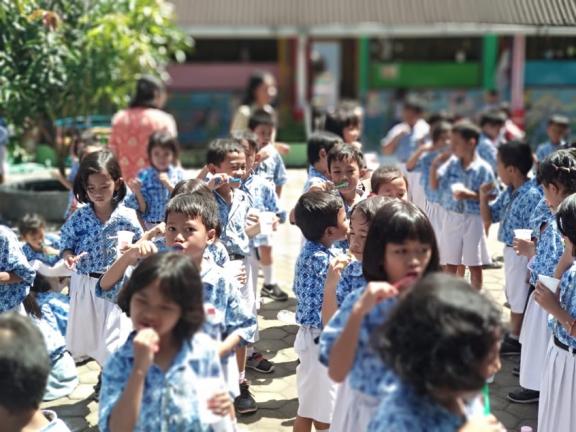 World Health Professions Alliance presidents deliver message to mark the Year of Health and Care Workers
Earlier this year, I recorded a video message together with my colleagues from World Physiotherapy, the International Council of Nurses, the World Medical Association and the International Pharmaceutical Federation to demand concrete action to help safeguard our underfunded, COVID-affected health systems. 
We requested lawmakers to better invest in healthcare, healthcare education and careers, and pandemic preparedness. We also urged the public to follow government advice: avoid close contact with others, keep physical distance, wash hands, wear a mask and ventilate rooms regularly. Finally, we urged individuals to get vaccinated when the COVID-19 vaccine becomes widely available. 
FDI adds its voice to the coalition of international NGOs calling for equitable access for vaccines and treatment during COVID-19 pandemic 
In February, I attended (virtually) the World Federation of Public Health Associations' historic meeting to initiate a coalition amongst leaders from international NGOs who share a common interest in equitable access for vaccines and treatment during COVID-19. 
We agreed to work together to build and sustain equity in global public health through increased advocacy for social protection and social development in vulnerable communities. The Coalition is committed to engaging with other organizations, governments, and key stakeholders to achieve a coordinated response to the pandemic. 
As part of this coalition, we call on the WHO World Health Assembly, the G20, every government, and all organizations that engage in public health, social policy, and advocacy to make the ethical choice now for the health and the economic well-being of all populations globally, especially the most vulnerable — leaving no one behind.
You are welcome to read the statement in full here. 
As always, stay safe and healthy!
Dr Gerhard K. Seeberger
FDI President