Health Canada food guide says free sugars raise risk of tooth decay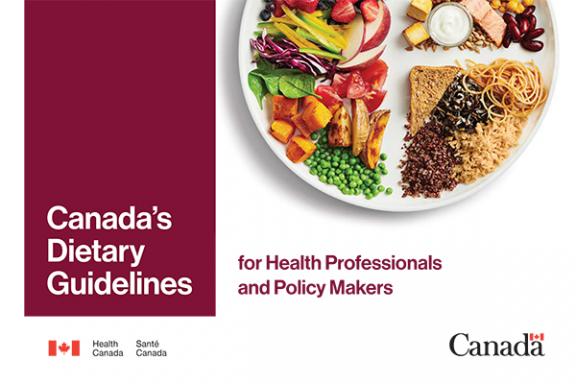 Health Canada recently released Canada's Dietary Guidelines for Health Professionals and Policy Makers. The country's health department guidelines aim to 'promote healthy eating and overall nutritional well-being' and serve as 'a resource for developing nutrition policies, programs and educational resources for members of the Canadian population two years of age and older.'
This new food guide goes beyond a simple 'how-to' on healthy eating: it includes chapters on the importance of sharing meals with others, how diverse social and environmental factors influence food choices and eating behaviours, as well as a detailed glossary of terms that lists a definition for dental decay.
What's oral health got to do with it?
For the very first time, the Canadian government has published dietary guidelines with specific mention of the link between sugars consumption and tooth decay. What's more, the guidelines highlight the relationship between oral diseases and other non-communicable diseases, reinforcing the connection between oral health and overall health.
"Oral diseases, such as dental decay, share common nutrition-related risk factors with some of the leading chronic diseases in Canada such as diabetes and cardiovascular disease."
All about sugars
Health Canada's food guide recommends eating a variety of healthy foods each day, including plenty of fruits and vegetables, some protein, and whole grains. It suggests limits on foods high in salt, saturated fat, and free sugars. The guide notes that sugary treats, which have little to no nutritional value, often stick to the teeth and increase the risk of tooth decay.
"Promoting the consumption of water instead of sugary drinks, and reducing the intake of confectioneries to a minimum, are important ways to help Canadians decrease free sugars intake and reduce the risk of obesity, type 2 diabetes, and dental decay."
The cost of dental decay
According to Health Canada, "dental decay affects 57% of Canadian children aged 6–11 years and 96% of Canadian adults over their lifetime." Poor oral health can cause discomfort and pain, hampering productivity and often leading to social isolation. In addition to the personal cost, poor oral health poses a significant expense to the country as a whole: "In 2015, total expenditures for dental services in Canada were estimated at $13.6 billion."
Health Canada's comprehensive, holistic approach to food and nutrition represents an encouraging step toward better health outcomes in the future. 
Find out more...
This report sets out Health Canada's guidelines and considerations on healthy eating. The guidelines are based on the best available scientific evidence. They promote healthy eating and overall nutritional well-being, and support improvements to the Canadian food environment.
Canada's Dietary Guidelines for Health Professionals and Policy Makers
---
This practical guide provides useful information on sugars and its effects on oral health. It aims to reduce sugars consumption and curb the epidemic of dental caries.