Workshop arms dentists with the tools to help patients with tobacco cessation
Focusing on a select number of oral health professionals and moderated by Dr Dongbo Fu from WHO, the workshop educated participants on how to implement FDI's Tobacco Cessation Guide.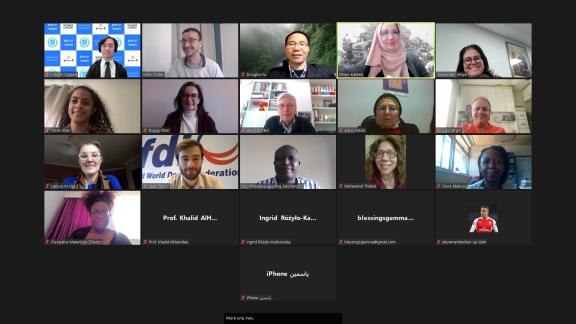 FDI President Prof. Ihsane Ben Yahya opened our first-ever Tobacco Cessation workshop which took place on 9 December 2021. Moderated by Dr Dongbo Fu (Medical Officer, No Tobacco Unit, Department of Health Promotion, WHO) the workshop aimed to educate oral health professionals on how to implement FDI's Tobacco Cessation Guidance and deliver tobacco cessation advice to patients in their practices.
Focusing on a select number of oral health professionals and supported by the Chair (Assoc. Prof Elham Kateeb) and Vice-Chair (Prof.  Hiroshi Ogawa) of FDI's Public Health Committee, the event gathered 20 participants from 11 countries (Egypt, Lebanon, Morocco, Netherlands, Nigeria, Palestine, Poland, Saudi Arabia, Tanzania, Turkey, and Zimbabwe).
Implementing the 5As and 5Rs brief tobacco interventions
There are several structured models available to help deliver brief tobacco interventions. The 5As (Ask, Advise, Assess, Assist, Arrange) and 5Rs (Relevance, Risks, Rewards, Roadblocks, and Repetition) are the most widely used delivery models in primary care and have proven to be effective in helping patients quit tobacco. The workshop, therefore, focused on these concepts.
The 5As are targeted at patients willing to quit

and include all the activities that an oral health professional can do, within three to five minutes in a primary care setting, to help a tobacco user make a quit attempt.

The 5Rs are

targeted at patients

not

willing to quit

and should be addressed during a motivational counselling intervention.
Available evidence suggests that behavioural counselling (typically brief) conducted by oral health professionals, in conjunction with an oral examination in the dental office or community setting, can increase tobacco abstinence rates by 70 per cent1.
The workshop was split into two sessions and participants were tasked with delivering the 5As in the first session and 5Rs in the second session, to help a tobacco user make a quit attempt in a primary care setting using specific roleplay scenarios.
The scenarios were developed using examples included in FDIs Tobacco Cessation Guidance for Oral Health Professionals. Participants played the role of the dentist and the patient in rotation to allow all participants to practice delivering the intervention.
Learning and improving
A comprehensive post-workshop evaluation survey was shared with all participants so that the feedback can be used to improve future sessions and inform implementation of workshops at the national level using this model. Key learning's will help to ensure that oral health professionals are appropriately educated and provided with the best possible tools in supporting patients to quit tobacco.
About the FDI Tobacco Cessation project
The project was launched in 2020 to provide oral health professionals with smoking cessation and control resources that can be implemented in the dental setting. The objectives of the project are to increase awareness of the fundamental role of the oral health profession in tobacco cessation, increase awareness of the dangers of tobacco smoking to oral health, and increase the knowledge and skills of oral health professionals in providing tobacco cessation interventions in dental settings.
Find out more and access the resources
References
Carr AB, Ebbert J. Interventions for tobacco cessation in the dental setting. Cochrane Database Syst. Rev. 2012;(6):CD005084. doi: 10.1002/14651858.CD005084.pub3.