Don't wait until it hurts. Helping dentists adopt the right working postures in celebration of National Ergonomics Month
Ergonomics in dentistry is critical to ensuring dentists can provide the best possible patient care, by safeguarding their own health first. Register for the webinar.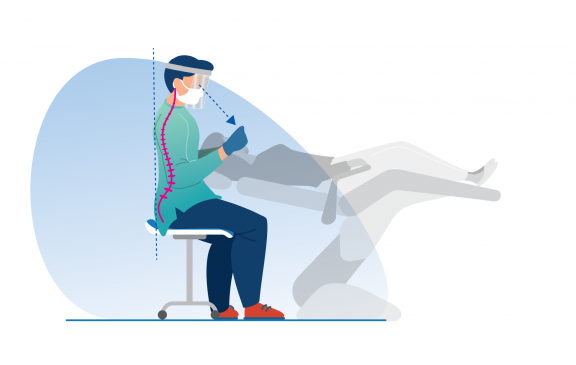 FDI is pleased to celebrate National Ergonomics Month this October and call for dentists and dental teams to prioritize their own health so that they can provide the best possible care to their patients, without injury to themselves.
"Dentistry is seen as a relatively safe profession. However, oral health professionals have been identified as having an 'occupation that adversely affects health'. Ergonomics and good postural practices are essential to achieve accurate treatments while preventing health issues, such as musculoskeletal problems, in the dental team."
Register for the Don't wait until it hurts. Adopting the right working postures webinar taking place on 26 October 14:00 CEST, to understand the:
meaning and applications of ergonomics and its importance for the dental practice

;

importance of ideal posture and

t

he impact of bad posture for the professional, the assistant and treatment outcomes

;

impact of

an accurate view

to

help to keep a comfortable posture

;

impact of enhanced PPE during

the

COVID-19 pandemic

; and

main musculoskeletal disorders that come with bad posture.
What does ergonomics in dentistry mean?
Ergonomics in dentistry means preventing musculoskeletal problems by enabling the dentist to adopt a more natural and comfortable posture, achieving patient-friendly treatment, improving treatment efficiency, and achieving treatment accuracy.
Ergonomics in dentistry should strike a balance between keeping the dentist healthy and providing efficient treatment. Bad posture during dental treatment, can have a serious physical impact and lead to repetitive strain injuries.
The potential to develop musculoskeletal disorders is higher when one disregards good ergonomic principles. In doing so, dentists and dental teams are at risk of compromising their technical expertise during procedures. This can lead to a limitation of certain procedures, potential career shortening, and, in the worst case, possible career-ending injuries. The main complaints being neck and lower back pain. These issues develop over a number of years and worsen with a heavy workload.
Start protecting yourself today
FDI's Ergonomics and Posture Guidelines for oral health professionals are a must read if you want to try and keep yourself injury free in the dental workplace.
The Health and Safety in the Dental Workplace project is supported by Morita and the next phase of the project will focus on mental health and well-being.
National Ergonomics Month (NEM) was designated as such by the Human Factors and Ergonomics Society, in 2003.