The beauty of scars and difference – Improving access to cleft care with digital technology
Listen to Dental Check-up to hear the inspiring journey of a person living with cleft and learn how digital technology is improving access to care.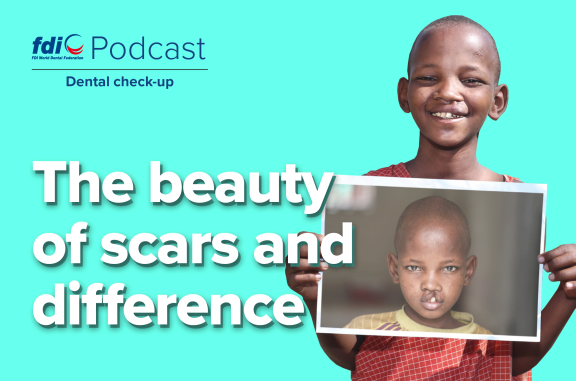 People born with a cleft lip and/or palate (cleft) require lifelong care, including nutrition support, surgery, speech therapy, orthodontics, dental care, and psychosocial support. Unfortunately, many patients struggle to access lifesaving care due to various challenges including distance from care centers and affordability. Digital advances and technologies can help bridge this gap and improve access to cleft care for people all around the world.
In this special Dental Check-up episode, host Tony Johnston speaks with Ashley Barbour and Prof. Juan Pablo Gomez Arango about the potential of digital technology to increase access to cleft care. Ashley Barbour shares her very personal experience of growing up with cleft and shares how receiving treatment throughout life has helped her to a have successful, meaningful, and impactful life.
Transforming Lives: Bridging the Gap in Cleft Care with Digital Technologies
In a special episode of Dental Check-up, Prof. Juan Pablo, who is driving innovative cleft care for people with cleft in Colombia, shares the heart-wrenching struggles that individuals with cleft and their families face when seeking comprehensive cleft care. Patients often have to travel long distances to reach care facilities and endure multiple treatments over the course of their lifetime. Moreover, the lack of professionals dedicated to cleft care adds to the challenge of receiving the necessary care. The cost of treatments is yet another obstacle that can leave patients and their families feeling isolated and may discourage them from seeking care.
"My dream is that every child born with a cleft will have the exact same opportunity to receive high quality, comprehensive cleft care, independently of where he was born, his socioeconomic status, or his culture." – Juan Pablo
Ashley Barbour, who was born with a cleft lip and palate, shares her own journey of receiving cleft care throughout her childhood into adult life. She describes growing up with cleft as life-changing and how she was privileged to have access to cleft treatment from birth. Nevertheless, ongoing medical treatment and encountering the world with a visible difference forced her to find strength within herself that she thinks she would not have found otherwise. Her journey highlights the emotional and physical challenges that individuals with cleft confront, and the critical need for access to comprehensive care.
Cleft treatments such as the development of multiple prosthetic appliances can be extensive and tiring. They are, however, essential to help individuals with cleft to swallow, eat, grow, and learn to speak. Digital technologies have the potential to reduce barriers to access and can be a gamechanger in providing comprehensive cleft care.
Listen to the full episode to learn about the transformative power of digital cleft care and how it can help to improve the lives of people born and living with cleft.
The Digital Dentistry in Cleft Care Massive Open Online Course is coming soon!
Stay tuned as the Massive Open Online Course (MOOC) on digital dentistry in cleft is coming soon! Learn about the benefits of digitalization in comprehensive cleft care; understand the patient journey though a digitalized care pathway; and understand the role digitalization will play in the future of dentistry. The course aims to provide guidance and scientific expertise to ensure sound implementation of the latest technologies into the cleft care continuum.
The Digital Cleft Care project is supported by Smile Train and Dentsply Sirona