How did you celebrate World Oral Health Day? Let us know, win a prize!
Thank you to everyone who celebrated World Oral Health Day (WOHD)! From brush-a-thons and oral health parades to free dental check-ups, all your hard work to promote this year's campaign has been instrumental in spreading the 'Say Ahh: Act on Mouth Health' messages across the world.
We are humbled by your overwhelming support to make WOHD 2019 a resounding success – hundreds of activities were organized globally.
How did you Act on Mouth Health?
We want to know how you celebrated WOHD.
Did you organize a lecture, hand out the checklists with oral health tips, set up a booth? No matter the size or your activity, if it was in the name of WOHD, we want to know about it!
Please fill out the online WOHD Activity Report and tell us about your celebration. You can add photos, videos, links and all the details needed to describe your local campaign.
When you submit an activity report, you become eligible to win a WOHD Award, so don't miss your chance.
The World Oral Health Day Awards
FDI relies on the power of local and national campaigns to activate WOHD globally. Empowered by a common goal to reduce the burden of oral diseases, the oral health community comes together year after year to organize free dental check-ups, school activities, educational lectures, awareness walks, flash mobs, and more.
For FDI members and student dental associations, the WOHD Award prize includes travel, accommodation, and attendance at the FDI World Dental Congress (4­8 September 2019 in San Francisco, USA), an awards ceremony during the WOHD launch session at the Congress, and WOHD merchandise to use in future campaigns. There is also an award open to non-member associations and the general public, so let us know how you celebrated too, so that your efforts can be recognized.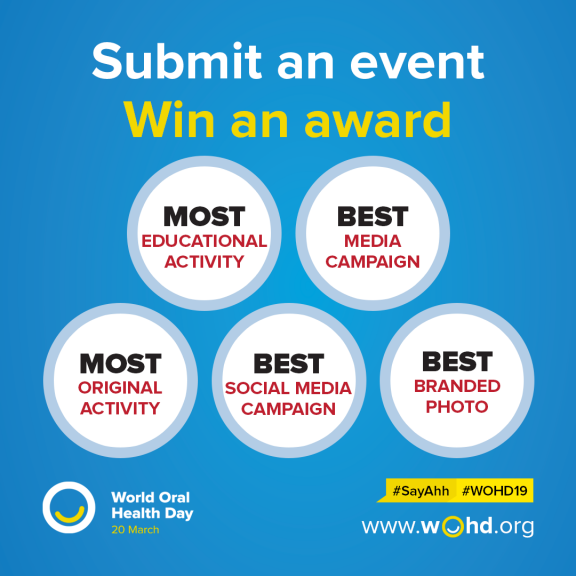 Submit an activity report for a chance to win a WOHD Award
The WOHD awards are divided into five ategories.
For FDI members (National Dental Associations) only:
For members of the International Association of Dental Students only:
For the public only (the public award does not include a trip to the FDI World Dental Congress. It includes an official certificate of recognition and WOHD merchandise to use in future campaigns):
To select the WOHD Award winners, FDI will start evaluating the activity reports. If you haven't already, submit your activity report today.
WOHD would not be the success that it is without your continued dedication and support – together, let's make oral disease history.
Find out more...
Every year, FDI gives out five World Oral Health Day Awards to recognize those who organized the most outstanding campaigns, rewarding the work of FDI members, students, and the public.
---
World Oral Health Day is celebrated every year on 20 March. It is an international day to celebrate the benefits of a healthy mouth and to promote worldwide awareness of the issues around oral health and the importance of oral hygiene to looking after everyone old and young.