Rebeka, 28, shares her story on how COVID-19 severely impacted her oral health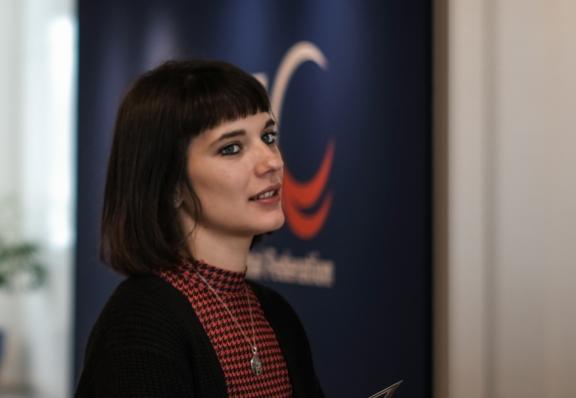 During the first wave of the COVID-19 pandemic, routine dental care was largely unavailable, as many dental practices were forced to close. As the patient testimonial illustrates below, lack of access to dental care often results in increasing numbers of late-stage dental complications and untreated dental emergencies.
Rebeka, 28-year-old post-graduate student in Switzerland, shares her story
"Growing up, I was lucky enough to have oral health education at home as well as in school, and I have been visiting the dentist regularly since I was a child. However, I'm not perfect—sometimes my sugar intake is higher than it should be, and not everything I eat is tooth-friendly. This is why it's important for me to visit my dentist at least twice a year for a regular check-up. During these visits, my dentist removes the build-up of plaque from my teeth and takes care of any small cavities if necessary." 
Her routine dental care was critically delayed 
"Due to the initial closure of most dental clinics at the onset of the pandemic, I had an 8-month gap between dental visits. My appointment should have happened in March 2020. I was worried about missing the appointment, but I had no tooth pain and I never expected that my oral health would significantly deteriorate. At the same time (like many people I'm sure) I had several concerns about visiting my dentist during the pandemic. Even after dental practices started to reopen in spring 2020, I remained rather reluctant to go."
The excruciating pain was the sign she couldn't wait
"However, one day in July, I woke up with severe pain. First, I took painkillers, hoping that it would help, but after a couple of days, it became clear that I couldn't wait any longer. After the long-awaited dental check-up and an X-ray, my dentist told me that root canal treatment was absolutely necessary. As my cavity did not cause any pain in the beginning, I did not realize in time that I had a problem. During the root canal treatment, the nerve was removed, the inside of my tooth was cleaned and disinfected, and then restored with a new crown. 
Lessons learned
"I am happy that my tooth is fixed, but I wish I did not have to go through such pain and have a root canal—a significantly complex procedure with serious financial implications. So, I've learned my lesson: even in these uncertain circumstances, I have to work with my dentist to help maintain my oral health and general health."
Can you relate to Rebeka's story? Share your own experience:
Since the onset of the pandemic, have you had concerns around visiting your dentist? Have you been wondering what qualifies as essential or emergency dental care, or whether your dentist can provide treatment and/or prescribe medication over the phone? Have you been thinking of trying to perform treatment on yourself at home ("DIY dentistry")? If you are a dentist, have you seen an increase in certain kinds of dental treatments?
FDI reinforces oral health as an essential public service. Oral healthcare is fundamental to maintaining good overall health and routine oral care is necessary for the early detection, prevention, and control of oral health conditions. Oral diseases, if left untreated, not only impact the mouth, but can also impact general health and well-being. 
For World Oral Health Day 2021, one of FDI's aims is to reveal how the COVID-19 pandemic has impacted the oral health of many people worldwide—in their own words. 
We want to hear from you.