FDI warmly remembers Professor Wim van Palenstein Helderman, member of the Public Health Committee and oral health advocate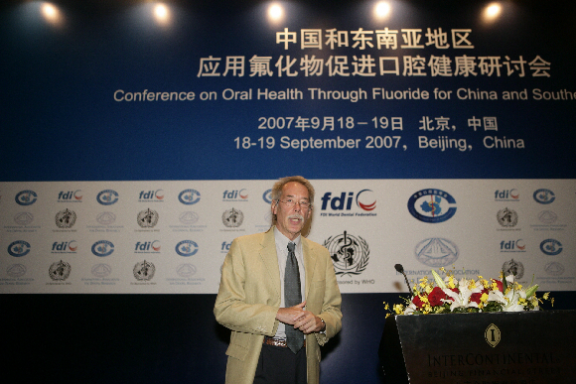 Professor Wim van Palenstein Helderman, an innovator and forward-thinking leader in global oral health, passed away on 21 January 2021, shortly after his 77th birthday.
Professor Wim van Palenstein Helderman, an innovator and forward-thinking leader in global oral health, passed away on 21 January 2021, shortly after his 77th birthday. Wim was professor of Global Oral Health at Radboud University, Nijmegen, the Netherlands. For a time, he was the only professor in the world of this kind. This unique position was linked to the former WHO Collaborating Centre for Oral Healthcare Planning and Future Scenarios at Nijmegen University. His entire career was driven by a deep conviction that good oral health is a universal human right. This led him to focus on strengthening education and research to overcome inequalities in oral health and access to care, particularly for deprived communities around the world. 
From 2002-2008, Wim was a founding member and co-chair of FDI's World Dental Development & Health Promotion Committee (now called the Public Health Committee). In this function he oversaw milestone events in global oral health such as the first-ever ministerial conference on oral health in Africa, several expert consultations on fluoride, and the establishment of World Oral Health Day in 2007. Since then, FDI member national dental associations have organized hundreds of events each year to raise awareness of the importance of oral health for all. More than 200 publications are testimony of Wim's broad scientific and academic work. Yet, he retained a humbleness and a great sense of humour, making everyone feel comfortable to approach him. He will be warmly remembered by all FDI colleagues and staff who had the pleasure to know him.
Graduating in dentistry from the University of Utrecht, the Netherlands, in 1967, Wim completed a PhD in oral microbiology in 1975 at the same university, followed by a research residency at the Forsyth Dental Center of Harvard University, Boston, USA. This training laid the foundation for an accomplished academic career in periodontology and cariology where he contributed to the rapidly growing knowledge on bacteriological causes and preventive pathways of these two major oral diseases. During the 1970s and 1980s, he served in various positions for Dutch dental professional organizations, including the role of editor of the Dutch Dental Journal, a position he held until 2012. 
His true vocation developed while working in Tanzania for a joint project of the Dutch and Tanzanian governments (1986-1994) where Wim coordinated the establishment of a dental school at the Muhimbili University in Dar-Es Salaam. As inaugural professor for Preventive and Community Dentistry at the new faculty, he trained a new generation of African dental leaders and spearheaded innovative workforce models to ensure integration of oral healthcare in primary healthcare. 
A progressive liberal at heart, Wim was known for his critical thinking, oftentimes challenging professional paradigms ahead of his time. The Dutch Queen made him Officer of the Order of Oranje-Nassau, a royal recognition for his work in improving oral health globally that he cherished highly. Wim will be sorely missed by his wife Lenie and extended family, as well as his former students, colleagues and peers.
Adapted from tribute text by Habib Benzian, Bella Monse, Robert Yee, and Christopher Holmgren.