Lancet report ties alcohol use to oral cancer – even moderate consumption is not without risk
The effect of alcohol on the mind and body is a perpetual topic of interest within the scientific community, though reports often reach divergent conclusions regarding its impact on overall health.
The Lancet recently published a study titled, Alcohol use and burden for 195 countries and territories, 1990–2016: a systematic analysis for the Global Burden of Disease Study 2016. The study finds unequivocally that 'alcohol use is a leading risk factor for [the] global disease burden and causes substantial health loss.' The study also finds that 'the risk of all-cause mortality, and of cancers specifically, rises with increasing levels of consumption.'
The study stands apart from other research conducted on the subject, as it claims that a 'zero' level of alcohol consumption is the only way to minimize health loss. Many health bodies, including the World Health Organization, specify harmful use of alcohol as a leading risk factor for poor health. According to this study, any level of alcohol consumption is not without harm or risk.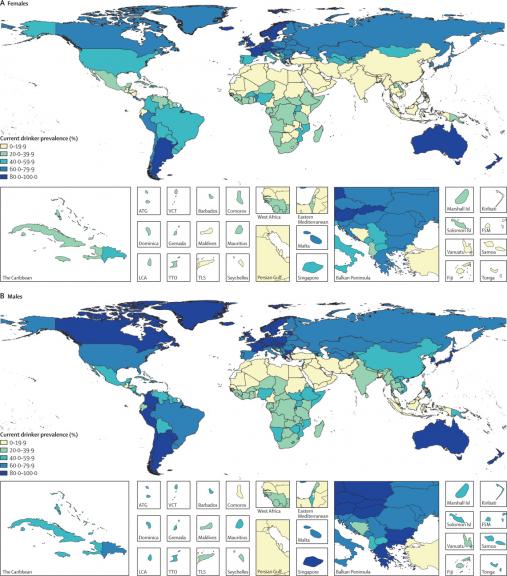 The link to oral health
The Lancet study is particularly relevant to oral health, as it links alcohol use to four types of oral cancer: oesophageal cancer, larynx cancer, lip and oral cavity cancer, and pharynx and nasopharynx cancer. The study indicates that any level of alcohol consumption, even one drink per day, increases the relative risk of developing each of these cancers. The other cancers cited in the study are breast cancer, colon and rectum cancer, and liver cancer.
For populations aged 50 years and older, cancers accounted for a large proportion of total alcohol-attributable deaths in 2016, constituting 27.1% of total alcohol-attributable female deaths and 18.9% of alcohol-attributable male deaths.
Alcohol use and its damaging effects on oral health
Oral cancer is among the 10 most common cancers worldwide. It can be life threatening if not diagnosed and treated early. Alcohol consumption is a major risk factor for cancers of the mouth, larynx, pharynx and oesophagus. Alcohol can act as an irritant, especially in the mouth and throat. According to the American Cancer Society, cells that are damaged by the alcohol may try to repair themselves, which could lead to DNA changes that could be a step toward oral cancer.
Alcohol may cause other toxic chemicals, such as those in tobacco smoke, to enter the cells lining the upper digestive tract more easily. The American Cancer Society states that this might explain why the combination of smoking and drinking is much more likely to cause cancers in the mouth or throat than smoking or drinking alone.
Drinking alcohol also increases the risk of facial and dental injuries due to falls, road traffic crashes, and violent confrontations with others. Furthermore, alcoholic drinks are often acidic and high in sugar, which increases the risk of tooth decay.
Raising awareness among oral health professionals and patients
Managing associated behavioral risk factors, such as alcohol and tobacco use, can reduce rates of oral cancer. In terms of effective oral cancer treatment, early detection is key to increase positive patient outcomes. Oral health professionals are in a prime position to screen patients for early signs of oral cancer and quickly refer them for specialist care.
In line with its work to raise awareness about oral cancer and improve survival rates, FDI recently released the Oral Cancer: Prevention and patient management resource, which provides oral health professionals and patients with concise, yet comprehensive, information about oral cancer prevention, risk factors, and patient management. The guide specifically mentions alcohol use as a risk factor for developing oral cancer.
The guide also encourages and facilitates the integration of thorough oral screening examinations for malignant and potentially malignant lesions as part of routine dental visits, even for people considered at a lower risk for oral cancer. With this resource, FDI strives to increase patient and practitioner awareness about the risk factors associated with oral cancer, promote early detection and improve treatment outcomes worldwide.
---
Further reading
Oral cancer is a type of head and neck cancer and is any cancerous tissue growth located in the oral cavity. This guide focuses on oral cancer, which dentists can detect by observing the oral mucosa, as it is both superficial and accessible.