3M becomes a World Oral Health Day supporter, affirms commitment to oral health for all
3M and FDI are strengthening their partnership to include support for the 2019 World Oral Health Day (WOHD) campaign. 
Celebrated on 20 March, WOHD is the largest global awareness campaign on oral health. It is an international day to promote good oral health for everyone and empower individuals to maintain a healthy mouth at all ages.
3M Oral Care is excited to sponsor World Oral Health Day in 2019. There is no better way to live our mission of 'lifelong oral health for everyone' than by partnering with FDI to create awareness of the importance of oral health throughout the world.
3M already backs FDI's advocacy work, which includes a push to integrate oral health in the global health and development agenda and highlight the contributions of dental professionals in maintaining general health, well-being and quality of life. 3M also supported the implementation of FDI's Smile Around the World initiative in China in early 2018.
World Oral Health Day unites the global community under a common aim: to reduce the burden of oral disease and ensure good oral health for all. I'm thrilled to welcome 3M to our circle of World Oral Health Day supporters. I look forward to strengthening our existing relationship to deliver a top-notch World Oral Health Day in 2019.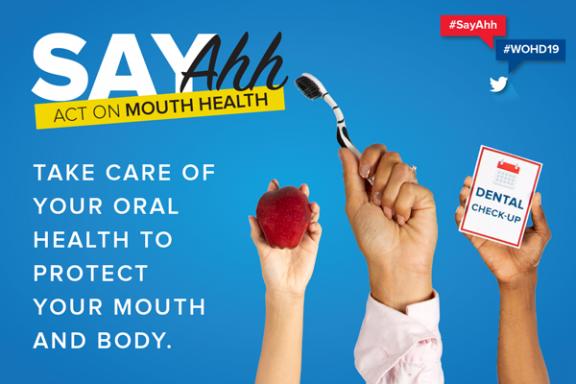 The 2019 WOHD campaign: Act on Mouth Health
A healthy mouth and body go hand in hand. The 2019 WOHD campaign, 'Say Ahh: Act on Mouth Health' motivates people to take charge of their oral health and take action to prevent oral diseases and protect their general health.
3M joins the Wrigley Oral Healthcare Program and Planmeca Oy as WOHD supporters. Henry Schein, Philips and Unilever are official partners of WOHD.
About 3M
3M applies science in collaborative ways to improve lives daily. With $32 billion in sales, their 91,000 employees connect with customers all around the world.