Great result: FDI's joint response to WHO's draft oral health strategy makes an impact
Read FDI's detailed analysis reviewing the impact of its joint response with 65 organizations on WHO's updated draft oral health strategy.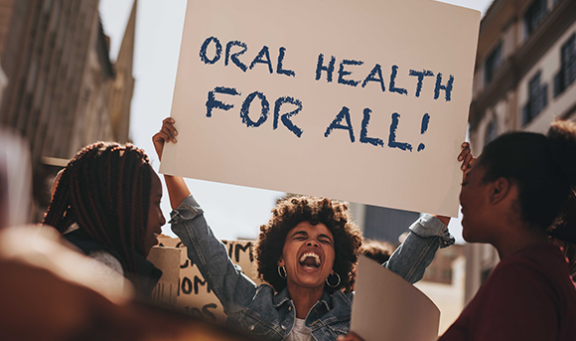 Following a public consultation process, the World Health Organization (WHO) made the updated draft global strategy on oral health available in January 2022, for approval by WHO's Executive Board through decision EB150(4). The decision recommends the updated strategy to be submitted for final approval at the 75th session of the World Health Assembly (WHA75) from 22–28 May 2022.
In addition to an initial analysis, and prior to WHA75, a detailed analysis of the updated strategy against the key asks and recommendations in FDI's joint response has been carried out. The revised version incorporates many of the suggestions made within the joint response submitted by FDI with the support of 65 organizations during the public consultation process, including the call for a new strategic objective on the health workforce, and the recognition of the co-morbidity burden of oral diseases with other noncommunicable diseases (NCDs).
This analysis is helping FDI and co-signatories of our joint response to assess the impact of our submission, but also to identify those areas that could be further strengthened.
Amendments for national dental associations and prevalence of orofacial clefts
Since the publication of the draft strategy, FDI continues to advocate for some refinements to be made before it is presented for final approval at WHA75. While most of the updates were very positive, there is one major setback: national dental associations are incorrectly depicted as private sector in the updated version. Health professional bodies are a core element of civil society as recognized by WHO on many occasions. We therefore urge WHO to rectify this misclassification and put the paragraph on national dental associations and other oral health professional organizations under the category of civil society, and not private sector.
Moreover, while FDI commends the inclusion of orofacial clefts as part of the oral disease burden in the global strategy, the updated version did not, as requested, reconsider the prevalence of orofacial clefts to be 1 in 700 births when considering the prevalence of all clefts of the lip and palate together with considerable ethnic and geographical variation. It was unclear how the prevalence rate of 1 in 1,500 births had been calculated, and FDI has asked WHO to clarify.
New strategic objective on health workforce and oral health within NCD response
This detailed analysis is also helping FDI and its network to identify areas that will need further attention in the subsequent action plan and monitoring framework on oral health to be developed and approved by WHO in 2023. For instance, the new strategic objective on the health workforce should include action points to reform current payment system models for oral health providers to encourage a shift towards prevention in oral healthcare.
Moving forward, and as reflected in the recently published joint FDI-NCD Alliance briefing note WHY and HOW to integrate oral health into the NCD and UHC responses, it will be important for poor oral health to be considered and treated as an NCD risk factor in the action plan, given the influence it can have in disease and treatment outcomes, making the case for action points to integrate oral health within health systems and promote inter-professional collaboration.
Finally, it is important to highlight that there are many opportunities to advance different NCD areas through WHO's draft global strategy on oral health. For instance, the updated version brings special attention to smokeless tobacco as part of tobacco control policy; the social implications of alcohol use are also reflected in, and associated with, the prevalence of traumatic dental injury; more action on sugar intake reduction can be channeled through oral health promotion efforts; and the relevance of HPV vaccination in the context of oral cancer has also been highlighted.
More than ever, it is important we work together to ensure the integration of oral health within the NCD response and health systems, more broadly in line with Vision 2030. We therefore ask the oral health and broader NCD community to support the development and implementation of this strategy and it subsequent action plan and monitoring frameworkon oral health.
Would you like to contact us about this? You can write us at advocacy@fdiworlddental.org.