A new direction for the International Dental Journal: Q&A with Editor-in-Chief Prof. Ira Lamster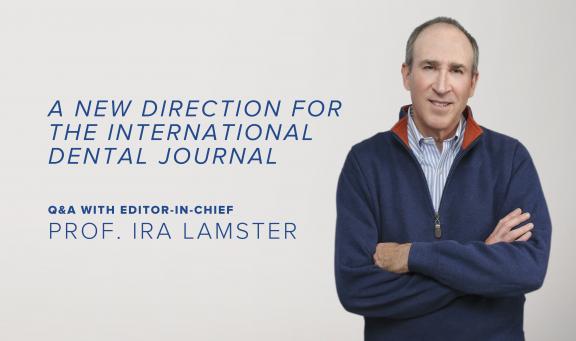 In January 2021, with Elsevier as the new publisher, the International Dental Journal (IDJ) will become a gold open access journal with no subscription charges.
FDI spoke to IDJ Editor-in-Chief Prof. Ira Lamster to learn more about what this new publishing model means for authors and readers. 
1.    The International Dental Journal will switch from being subscription based to a gold open access model from January 2021. What does this mean? What are the advantages for authors?    
The trend in scientific publishing is towards an open access format. In the past, an interested reader would pay for a journal subscription and then would receive a printed copy of the journal, and more recently a digital copy that could be accessed through a computer or tablet. With open access publishing, a digital version of a journal is now freely available to anyone who is interested by simply going to the journal's website. The cost of publishing is borne by the author (or their institution or organization) through the requirement of an Article Publication Charge or APC. This approach makes scientific reports available to everyone and is an advantage to authors by dramatically expanding access to their published papers. 
For the IDJ, beginning in late November 2020 (with publication of accepted manuscripts beginning in 2021), authors who submit manuscripts for consideration of publication will be charged an APC if their manuscript is accepted for publication. Once published, this research will be permanently accessible worldwide. IDJ authors paying the APC retain copyright to their published work.
Please note that with the transition, printed copies of the Journal will no longer be available. After downloading a published paper, individual copies can be printed and shared according to the CC license.
The change of publisher is quite complex, as different publishers use different editorial and production systems. I have been impressed with the publishing professionals at Elsevier throughout this period of transition. Many of these individuals will be part of the Journal's support team in the future. It is advantageous to have a publishing partner that brings experience, knowledge and enthusiasm to our efforts. 
Readers of the Journal will recognize the cover, but the style of the published papers will have a new and contemporary look.
2.    Will authors that submitted papers before the transition to the new open access model have to pay the article publishing charge (APC)?
All authors submitting manuscripts after November 15, 2020 will see an announcement that they will be responsible for an APC after peer-review and if their manuscript is accepted for publication.
Manuscripts submitted and accepted before this date will not be subject to an APC.
3.    Will the journal offer waivers to authors who may not be able to pay the article publishing charge (APC)?
All gold open access journals published by Elsevier are included in the Research4Life open access eligibility programme. The waiver or discount will depend on the location of the author's institution.
Invited Commentaries and Concise Clinical Reviews will not be charged an APC. Further, as Editor-in-Chief, I have a limited number of APC waivers each year that can be used for special circumstances.
For those who are interested, more information regarding APC discounts or waivers can be found at https://www.elsevier.com/authors/journal-authors/open-access/choice.
4.    What sets the IDJ apart from other journals in the dentistry field?
Since becoming Editor-in-Chief, my intent has been to align the IDJ with FDI's larger goals. Accordingly, the Journal publishes original research in three areas: practice-related research, international public health and interprofessional education and practice. Of these three areas, the largest number of manuscripts are being published in the area of international public health. In addition, a type of publication known as a Commentary has been introduced. This format allows thought leaders to write (in some depth) about important topics currently faced by the dental profession. We also introduced a continuing series of Concise Clinical Reviews, which provide clinicians with the latest information about clinical subjects.
5.    As IDJ Editor-in-chief, what is your long-term vision for the journal? Which research areas would you like to publish more papers on?
Since becoming Editor-in-Chief in 2015, my goals have been to enhance the academic standing of the Journal and define specific areas of research and scholarship that are aligned with FDI's mission and goals. 
The credibility of the Journal has been enhanced as evidenced by the steadily improving Impact Factor, as well as by other measures known as Altmetrics. We want this trend to continue. In that regard, let me acknowledge the enormous help of the Associate Editors and Editorial Board in helping to enhance the reach of the IDJ. It is through their efforts that we have realized the successes of the past few years.
The IDJ will continue to evolve and expand its voice as the scholarly publication of FDI. We will also be exploring ways in which we can expand the reach of the IDJ as the scholarly publication of the FDI even further. As one example, we received far more submissions of manuscripts that can be published in any year. It may be possible to develop another publication that focuses, for example, on papers that report new information about dental materials and dental aesthetics, which are topics of great interest to clinicians. 
About Prof. Ira Lamster, IDJ Editor-in-Chief
Prof. Lamster has been Editor-in-Chief of the IDJ since 2015. He is currently Dean Emeritus, Columbia University College of Dental Medicine and Clinical Professor, Stony Brook University School of Dental Medicine. Prof. Lamster served as Dean of the Columbia University College of Dental Medicine from 2001 to 2012, and Senior Vice President of Columbia University Medical Center from 2006 to 2012. His research efforts have focused on risk assessment for periodontal disease, the interrelationship of periodontal disease and systemic disease, the oral health care needs of older adults and the future of dental education and practice. Prof. Lamster is the author of more than 200 manuscripts and book chapters.
About the International Dental Journal
Celebrating 70 years of continuous publication in 2020, the IDJ is the official scientific journal of FDI World Dental Federation (FDI). The IDJ has seen a steady increase in article downloads and Impact Factor score, attaining a 2019 Impact Factor of 2.083. Published every two months, the IDJ features peer-reviewed articles relevant to oral health issues worldwide. These focus on international public health, practice-related research, and inter-professional education and practice. The IDJ is an important vehicle to promote FDI's global mission to be the global voice of the dental profession and to improve the oral health of people worldwide.