FDI advocacy guide promotes oral health and access to care for refugees and other vulnerable populations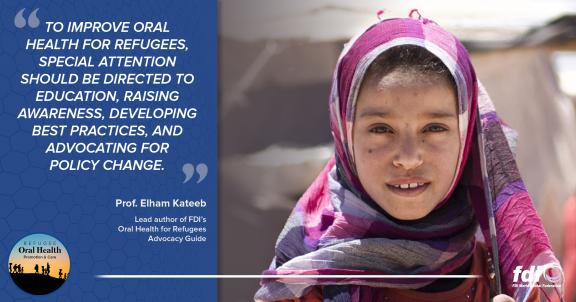 On World Refugee Day, FDI remains committed to promoting and facilitating access to regular dental care for the world's most vulnerable populations, including refugees.
Refugees are some of the most vulnerable people in the world. This World Refugee Day, FDI stands in solidarity with refugees and highlights the importance of ensuring their access to a reliable and complete level of oral healthcare.
FDI advocacy guide details roadmap toward the provision of quality oral healthcare
In many cases, refugees have limited access to both therapeutic dental care and preventive services. Barriers to oral healthcare vary, but may include high treatment costs, lack of dentists and dental insurance, low oral health literacy, and other cultural and psychological barriers.
In Promoting Oral Health for Refugees: An Advocacy Guide, FDI presents a road map for the reader to plan and implement successful strategies and advocacy that can improve the oral health of refugees around the world.
FDI promotes access to oral care for refugees
The plight of refugees is of critical concern to FDI. The Refugee Oral Health Promotion and Care Project serves to strengthen the infrastructure of oral health services offered to refugees by increasing access to tertiary dental services.
Through the project, FDI also aims to build capacity among healthcare- and community workers to help provide oral healthcare to refugees; influence existing legislation to provide dental care services to refugees; and support preventive and therapeutic interventions that may improve refugees' oral health.
Good oral health is not a privilege, but a basic human right. Oral health is essential to general health and well-being at every stage of life. However, essential oral health services remain out of reach for millions of people. Quality oral health services are essential to achieving universal health coverage and will help improve health outcomes and reduce inequalities in access to care. Together with its member national dental associations, FDI is taking steps to improve oral health outcomes for all.