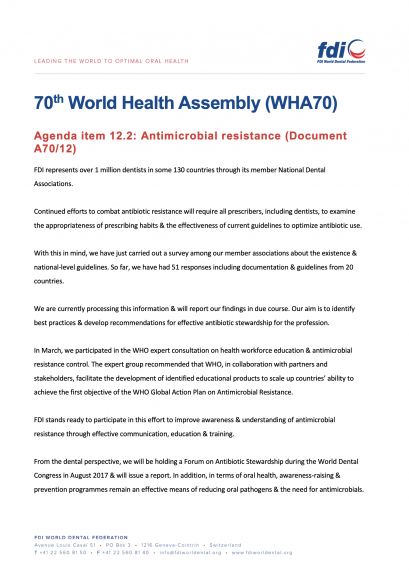 WHA70 - Antimicrobial resistance Agenda item 12.2 (Document A70/12)
FDI represents over one million dentists in some 130 countries through its member National Dental Associations.
Continued efforts to combat antibiotic resistance will require all prescribers, including dentists, to examine the appropriateness of prescribing habits and the effectiveness of current guidelines to optimize antibiotic use.
With this in mind, we have just carried out a survey among our member associations about the existence and national-level guidelines. So far, we have had 51 responses including documentation and guidelines from 20 countries.
We are currently processing this information and will report our findings in due course. Our aim is to identify best practices and develop recommendations for effective antibiotic stewardship for the profession.
In March, we participated in the WHO expert consultation on health workforce education and antimicrobial resistance control. The expert group recommended that WHO, in collaboration with partners and stakeholders, facilitate the development of identified educational products to scale up countries' ability to achieve the first objective of the WHO Global Action Plan on Antimicrobial Resistance.
FDI stands ready to participate in this effort to improve awareness and understanding of antimicrobial resistance through effective communication, education and training.
From the dental perspective, we will be holding a Forum on Antibiotic Stewardship during the FDI World Dental Congress in August 2017 and will issue a report. In addition, in terms of oral health, awareness-raising and prevention programmes remain an effective means of reducing oral pathogens and the need for antimicrobials.
Some governments are already talking to their dental community about AMR. We urge all governments to hold consultations with national dental associations when they develop their AMR national action plans.
Downloads