Quality in dentistry
Across the world today, the provision of healthcare has a prominent place in national political systems, and oral health is increasingly accepted as an integral part of general health.
At the same time, as access to information becomes increasingly easy, consumers have become increasingly demanding, whatever they are consuming—and oral healthcare is no exception. Patients no longer want to be passive; they want to contribute actively to their treatment and fully understand the details of their treatment plans.
Most people have three main requirements: quality of care, safety of care—two fundamental and inseparable treatment values—and transparency, including the right to be informed about the treatments planned, the materials used, the possible risks associated, the expected outcomes, and the treatment costs.
In 2017 FDI World Dental Federation published a policy statement on Quality in Dentistry, stating that "all stakeholders share a joint responsibility for defining the fundamental principles of quality to achieve the desired outcomes for patients, bearing in mind that dentists have the primary responsibility."
If the goal of providing a safe, transparent and quality service for patients is a clearly stated priority for dental teams worldwide, the discussion on quality is often misunderstood. Quality is often reduced to the quality of clinical acts without considering the social and economic environment (healthcare system, remuneration, and costs), the organization of the dental practice, and the people involved, namely patients and staff.
The Quality in Dentistry project was established in 2019 to provide a general framework for improving quality by creating an appropriate toolkit which considers different aspects of quality in dentistry and the involvement of all parties concerned. The toolkit does not propose a standard level of quality that can be achieved in every country, nor does it define a minimum level of quality. Instead, the toolkit aims to outline criteria that can be used by institutions, funding agencies, professional organizations and practitioners to enable them to set up systems that can help improve quality, whatever their needs, resources, and objectives may be.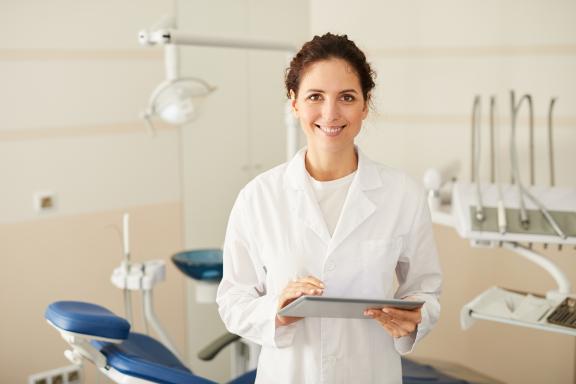 GOAL 1
Advocate for the recognition of the importance of quality in dentistry for better health, including oral health, worldwide.
Goal 2
Provide guidance for national dental associations, professional organizations, and practitioners to improve their systems through a quality approach.
Goal 3
Raise awareness of the benefits of taking a quality approach in dentistry.