New Year's resolutions: what's next for oral health?
Listen to the first Dental Check-up episode of the new year, where voices from around the world share their resolutions and FDI Executive Director, together with the Communications and Advocacy Director, highlight opportunities for oral health in 2023.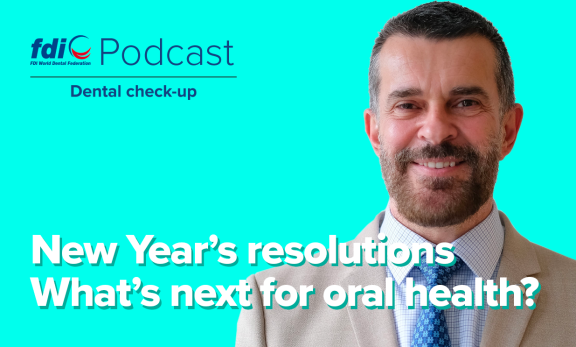 Entering the New Year brings with it the opportunity for everyone to reflect on the successes of the previous year and to build on those to plan the year ahead. In the latest episode of Dental Check-up, host and journalist Tony Johnston sits down with FDI Executive Director, Mr Enzo Bondioni, and FDI Communications and Advocacy Director, Dr Charanjit (Chaz) Jagait, to look at the year ahead from an oral health perspective.
Building on accomplishments to continue efforts to improve oral health globally
Many people start the new year by making resolutions that will result in a positive change in their lives. On a professional level, we plan the year ahead and build our strategies around key milestones and events. The year 2022 was a transformative one for oral health with many unprecedented developments taking place on the global oral health agenda. In the New Year's resolutions: what's next for oral health special episode, Mr Bondioni and Dr Jagait, reflect on the previous year and recount all the work that FDI has been doing to inch closer towards its Vision 2030, which is to achieve optimal oral health for all.
The guest speakers, in an engaging conversation with host Tony Johnston, also highlight some important upcoming opportunities for dentists and dental teams to help educate themselves and their patients on key oral health matters. In particular, they mention important developments at the World Health Organization (WHO) level, specifically the Global Oral Health Action Plan that will be considered at the WHO Executive Board meeting in January and the World Health Assembly in May; World Oral Health Day on 20 March; and the World Dental Congress, which will take place in Sydney, Australia from 24–27 September.
Listen to the full episode to discover what's next for oral health in 2023 and the resolutions some oral health professionals, from around the world, are making.