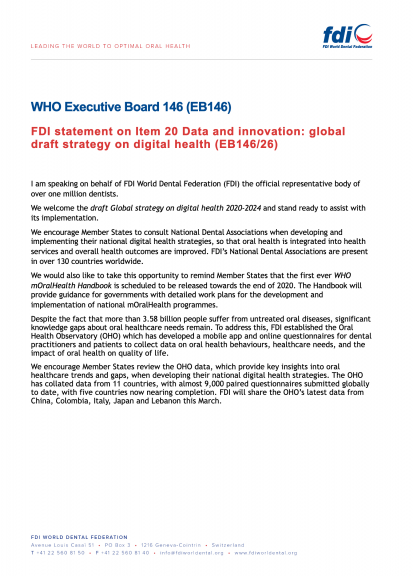 WHO EB146 - FDI statement on Item 20
FDI statement on Item 20 Data and innovation: global draft strategy on digital health (EB146/26)
I am speaking on behalf of FDI World Dental Federation (FDI) the official representative body of over one million dentists. 
We welcome the draft Global strategy on digital health 2020-2024 and stand ready to assist with its implementation. 
We encourage Member States to consult National Dental Associations when developing and implementing their national digital health strategies, so that oral health is integrated into health services and overall health outcomes are improved. FDI's National Dental Associations are present in over 130 countries worldwide. 
We would also like to take this opportunity to remind Member States that the first ever WHO mOralHealth Handbook is scheduled to be released towards the end of 2020. The Handbook will provide guidance for governments with detailed work plans for the development and implementation of national mOralHealth programmes. 
Despite the fact that more than 3.58 billion people suffer from untreated oral diseases, significant knowledge gaps about oral healthcare needs remain. To address this, FDI established the Oral Health Observatory (OHO) which has developed a mobile app and online questionnaires for dental practitioners and patients to collect data on oral health behaviours, healthcare needs, and the impact of oral health on quality of life. 
We encourage Member States review the OHO data, which provide key insights into oral healthcare trends and gaps, when developing their national digital health strategies. The OHO has collated data from 11 countries, with almost 9,000 paired questionnaires submitted globally to date, with five countries now nearing completion. FDI will share the OHO's latest data from China, Colombia, Italy, Japan and Lebanon this March. 
Downloads