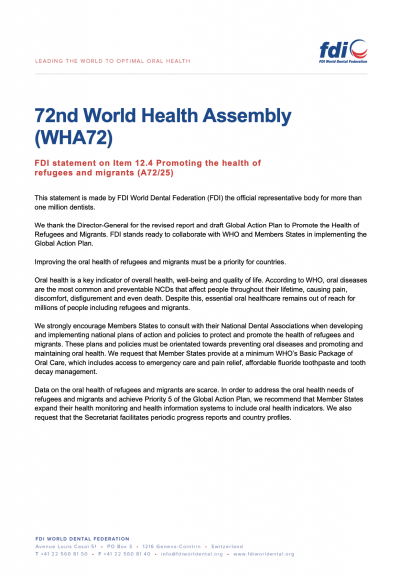 WHA72 - Promoting the health of refugees and migrants
Agenda item 12.4 (Document A72/25)
This statement is made by FDI World Dental Federation (FDI) the official representative body for more than one million dentists.
We thank the Director-General for the revised report and draft Global Action Plan to Promote the Health of Refugees and Migrants. FDI stands ready to collaborate with WHO and Members States in implementing the Global Action Plan.
Improving the oral health of refugees and migrants must be a priority for countries.
Oral health is a key indicator of overall health, well-being and quality of life. According to WHO, oral diseases are the most common and preventable NCDs that affect people throughout their lifetime, causing pain, discomfort, disfigurement and even death. Despite this, essential oral healthcare remains out of reach for millions of people including refugees and migrants.
We strongly encourage Members States to consult with their National Dental Associations when developing and implementing national plans of action and policies to protect and promote the health of refugees and migrants. These plans and policies must be orientated towards preventing oral diseases and promoting and maintaining oral health. We request that Member States provide at a minimum WHO's Basic Package of Oral Care, which includes access to emergency care and pain relief, affordable fluoride toothpaste and tooth decay management.
Data on the oral health of refugees and migrants are scarce. In order to address the oral health needs of refugees and migrants and achieve Priority 5 of the Global Action Plan, we recommend that Member States expand their health monitoring and health information systems to include oral health indicators. We also request that the Secretariat facilitates periodic progress reports and country profiles.
Downloads