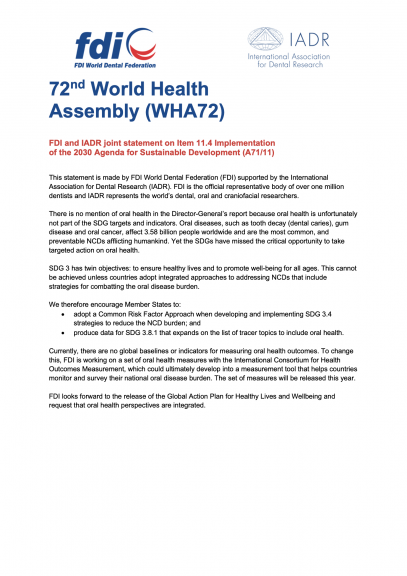 WHA72 - Implementation of the 2030 Agenda for Sustainable Development
Agenda item 11.4 (Document A71/11)
This statement is made by FDI World Dental Federation (FDI) supported by the International Association for Dental Research (IADR). FDI is the official representative body of over one million dentists and IADR represents the world's dental, oral and craniofacial researchers.
There is no mention of oral health in the Director-General's report because oral health is unfortunately not part of the SDG targets and indicators. Oral diseases, such as tooth decay (dental caries), gum disease and oral cancer, affect 3.58 billion people worldwide and are the most common, and preventable NCDs afflicting humankind. Yet the SDGs have missed the critical opportunity to take targeted action on oral health.
SDG 3 has twin objectives: to ensure healthy lives and to promote well-being for all ages. This cannot be achieved unless countries adopt integrated approaches to addressing NCDs that include strategies for combatting the oral disease burden.
We therefore encourage Member States to:
adopt a Common Risk Factor Approach when developing and implementing SDG 3.4 strategies to reduce the NCD burden; and
produce data for SDG 3.8.1 that expands on the list of tracer topics to include oral health.
Currently, there are no global baselines or indicators for measuring oral health outcomes. To change this, FDI is working on a set of oral health measures with the International Consortium for Health Outcomes Measurement, which could ultimately develop into a measurement tool that helps countries monitor and survey their national oral disease burden. The set of measures will be released this year.
FDI looks forward to the release of the Global Action Plan for Healthy Lives and Wellbeing and request that oral health perspectives are integrated.
Downloads